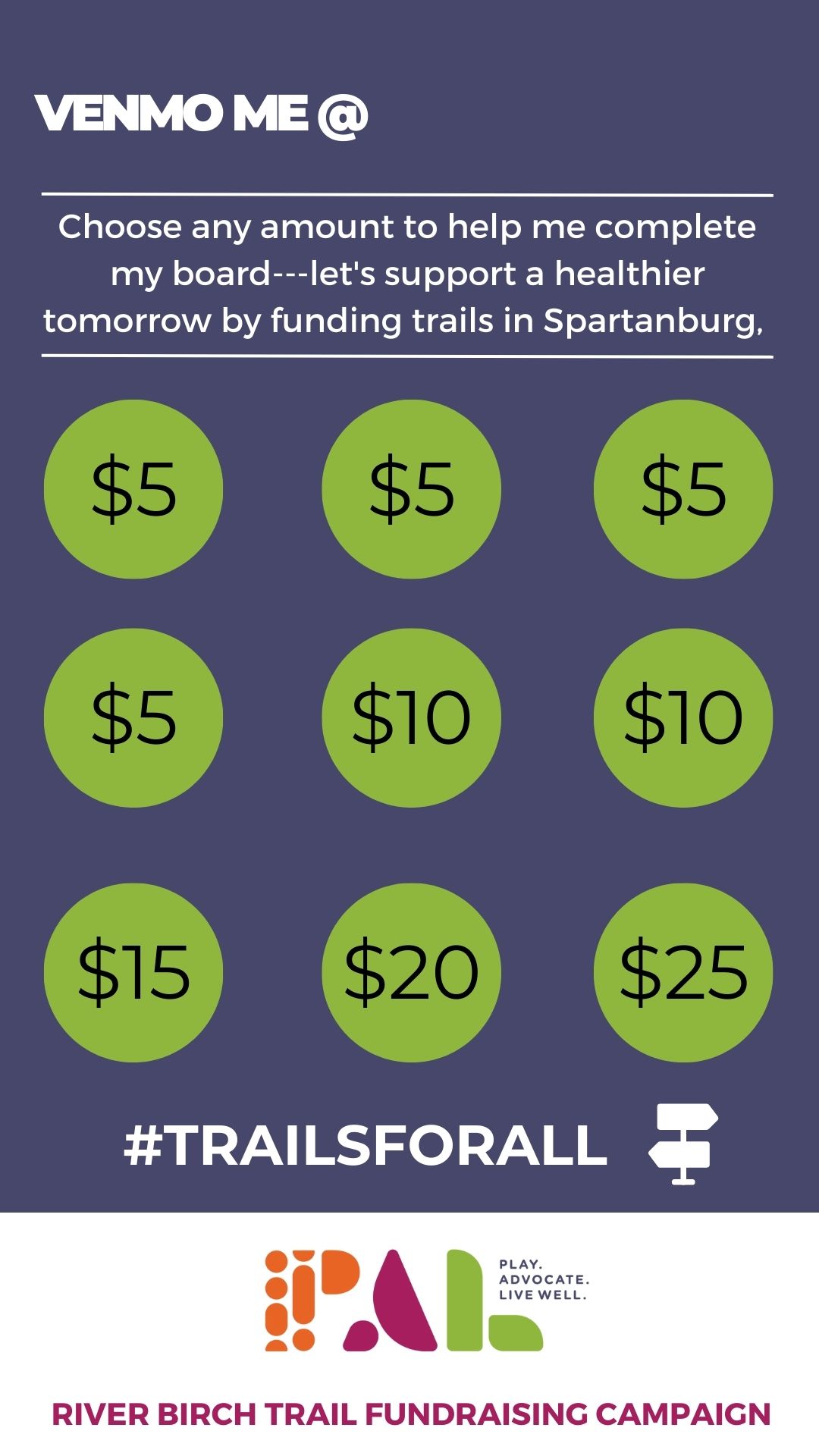 Share this graphic to your Instagram Story.
Enter your Venmo handle as text on the white line, and click share!
An excellent way to follow up to ensure you get the donations from those who voted on your poll is to direct message them, thank them for their interest, ask them for their Venmo username, and how much they wish to donate. When they respond, you can go ahead and request them on Venmo for the donation amount. Once they complete the request, make sure you update your story by sharing the graphic with their Instagram username over the amount they donated to you!
Good luck with filling your PAL River Birch Trail Venmo donation bingo board! Once you have filled your board, make sure you transfer your funds to @PAL_Spartanburg (you will see the check mark to indicate it is a verified charity), and in the "What's it for?" section, put your River Birch.
Other ways to Fundraise using Venmo:
You can go through your friend's list on Venmo and request everyone $5! Make sure you indicate the purpose of the transaction request. If you're fundraising for the River Birch Trail you can say something like, "Join me in supporting a healthier tomorrow by helping PAL complete the River Birch Trail! Please consider helping me fundraise for @PAL_Spartanburg" Once someone completes your request, you can transfer the funds to PAL's Venmo account, @PAL_Spartanburg. Be sure to indicate in the "What's it for?" section the River Birch Trail.
Share your fundraising page in a group chat or send it out via email with a message, including your Venmo account handle! An example would be, "Hi! Please consider helping to support my fundraising for the PAL: Play. Advocate. Live Well. Any amount helps when it comes to building trails for a healthier tomorrow! You can even Venmo me your contribution to @enteryourhandlehere! Thank you for your support!" Then transfer the funds to @PAL_Spartanburg and indicate in the "What's it for?" section the River Birch Trail.
You can also encourage your friends and family to donate directly to PAL on Venmo; our handle is @PAL_Spartanburg. Just make sure they list your name and that it is for the River Birch Trail fund in the "What's it for?" section.